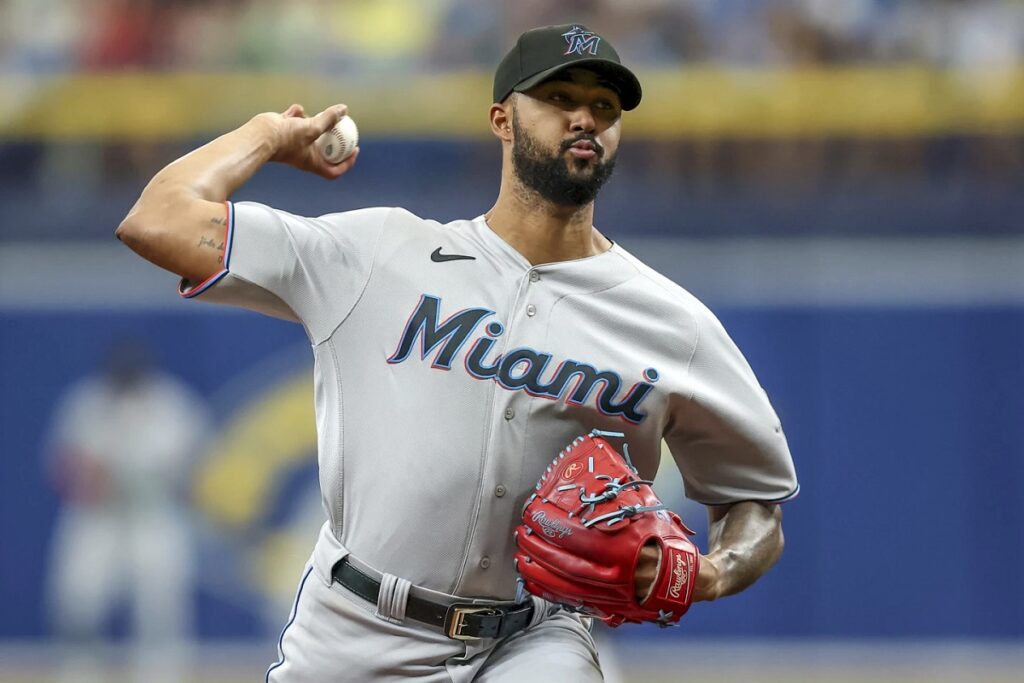 ST. PETERSBURG, Fla. (AP) — Sandy Alcántara threw a five-hit complete game and the Miami Marlins stopped a 10-game road losing streak by beating the Tampa Bay Rays 7-1 on Wednesday.
Alcántara (4-9), the reigning NL Cy Young Award winner, struck out seven and walked one in his second complete game this season and 11th overall. He had been 0-3 in four July starts with one no decision.
"(Felt) great," Alcantara said after a 97-pitch outing. "I need it. I threw my first complete game this year I think my second game in the season. So, I feel happy about it."
Alcantara also went the distance Apr. 4 against Minnesota. His 11 complete games since 2019 are the most in the majors. St. Louis' Adam Wainwright is second with six.
"Really, really good stuff," Tampa Bay manager Kevin Cash said. "Very challenging for us today at the plate. He did mix well. Kept us off balance. We just didn't hit that many balls hard."
Tampa Bay starter Zach Eflin (11-6), who was bidding to become the AL's first 12-game winner, left after four innings with left knee discomfort. The right-hander dropped to 10-2 in 12 home starts this season after allowing five runs and seven hits.
Eflin was hurt while attempting to field Garrett Hampson's bunt single leading off the fourth and will undergo tests.
"It just kind of grabbed him," Cash said. "I think his cleat got caught a little bit. Don't know much more."
Miami's Luis Arráez went 2 for 4 and had his major league batting average go from .375 to .376. He drove in a run with a double in the fourth and hit a run-scoring, sixth-inning single.
The Marlins are 2-9 since the All-Star break, while Tampa Bay is an AL-worse 5-15 in July. Miami is just 3-19 against the Rays since May 14, 2019.
"I felt like we played baseball today," Marlins manager Skip Schumaker said.
Jacob Stallings had an RBI double during a two-run second and added a run-scoring single in a three-run fourth as the Marlins took a 5-1 lead.
Bryan De La Cruz made it 6-1 when he homered on Calvin Faucher's first pitch in the fifth.
Jose Siri pulled the Rays within 2-1 on a third-inning RBI single.
SPECIAL NIGHT
The Marlins will honor Miguel Cabrera on Friday night when they host the Detroit Tigers. Cabrera, who is retiring after this season, made his major league debut at 20 with the Marlins in 2003 and hit four homers and had 12 RBIs in 17 postseason games en route to a World Series championship. The Marlins traded Cabrera to the Tigers in December 2007.
HOT RUN
Marlins 3B Jon Berti went 2 for 3 with a walk, and has 13 hits in 24 at-bats in nine games since the All-Star break. He doubled to complete an 11-pitch at-bat against Faucher in the sixth.
TRAINER'S ROOM
Marlins: RF Jesús Sánchez departed with neck tightness that occurred while running out a second-inning grounder. … RHP Tommy Nance (right shoulder) struck out three and gave up one hit over two innings for the rookie-level FCL Marlins against the FCL Cardinals.
Rays: Cash said "fingers-crossed" that 1B Yandy Díaz, who left Tuesday's game with left groin tightness, can avoid the injured list. Cash said an MRI exam results were encouraging. … RHP Shane Baz (Tommy John surgery) is expected to start throwing off a mound next month.
UP NEXT
Marlins: LHP Braxton Garrett (5-3) and Detroit RHP Reese Olson (1-4) are Friday night's starters.
Rays: LHP Shane McClanahan (11-2) will start Friday night against Houston. RHP Cristian Javier (7-2). McClanahan is coming off a start Saturday against Baltimore in which he allowed five runs over four innings.
___
AP MLB: https://apnews.com/hub/mlb and https://twitter.com/AP_Sports