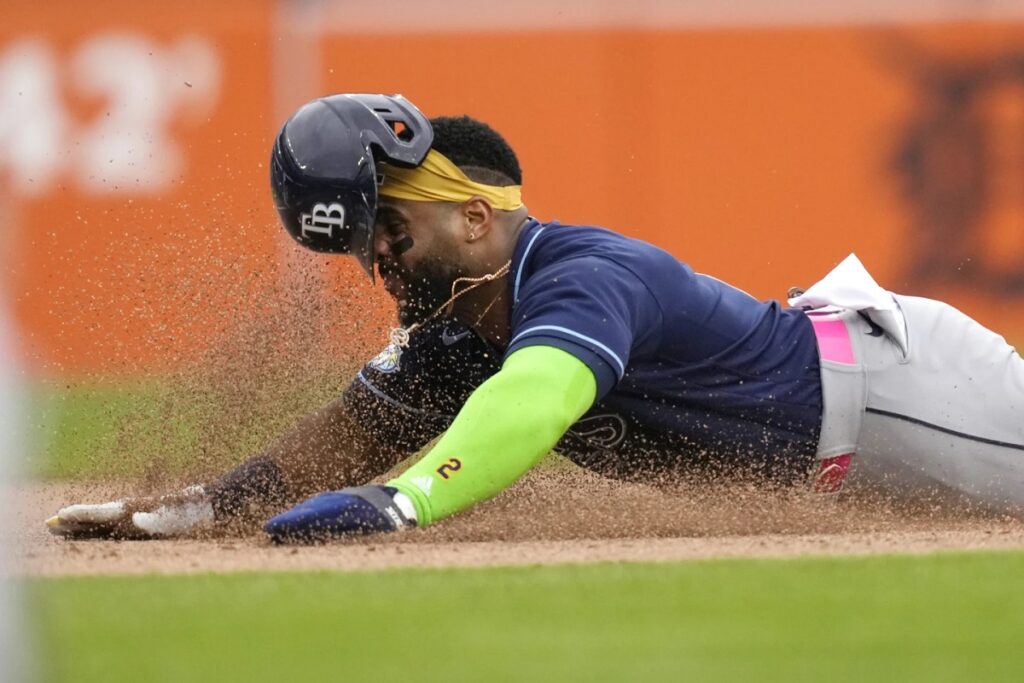 DETROIT (AP) — Yandy Díaz homered and scored three runs as the Tampa Bay Rays beat the Detroit Tigers 10-6 on Sunday, taking two of three in the weekend series.
Díaz and Wander Franco each had three hits and drove in two runs.
"It looks like the offense is waking up a little bit," Díaz said. "We had a stretch there where we weren't getting a lot of what we needed, but now things are starting to get better."
Colin Poche (9-3) got the win with 1 2/3 scoreless innings of relief.
Tigers starter Matt Manning (3-4) allowed eight runs in 5 2/3 innings, giving him 19 runs in his last three starts.
The Rays scored three times in the first and twice in the second to take early control.
Díaz led off the game with a double and took third on Franco's single. After Brandon Lowe grounded into a force at second, Díaz scored on second baseman Andy Ibanez's error. Manning hit Isaac Paredes to load the bases and Josh Lowe hit a two-run single.
Díaz made it 5-0 in the second with a two-run homer over both the new and old fences in centerfield.
"I was just trying to put a good swing on the ball and I got one there," he said.
Detroit scored on Eric Haase's two-out single in the second, but Matt Carpenter was thrown out trying to score from second.
Brandon Lowe homered in the fourth, putting the Rays up 6-1.
"We needed all the runs today, because it was going to be a bullpen game," Rays manager Kevin Cash said. "Manning really locked in after we got the early five runs, and we wanted to give the relievers as much of an advantage as we could."
The Tigers started the fourth with a Spencer Torkelson double off reliever Shawn Armstrong and singles by Carpenter and Andy Ibañez, the latter making the game 6-2. A walk to Akil Baddoo loaded the bases, but Haase struck out.
Poche replaced Armstrong and got pinch-hitter Jake Rogers to hit a sacrifice fly to left. Luckily for the Tigers, Carpenter crossed the plate before the Rays doubled Ibañez off second.
"We were chasing the game right from the start," Tigers manager A.J. Hinch said. "I liked the way we fought to the end, but we made too many mistakes to be encouraged."
Reliever Andrew Vasquez made his Tigers debut in the sixth, replacing Manning with two out and runners on second and third. It didn't go well, as his balk made it 7-3 before he was late covering first to allow Harold Ramírez an RBI single.
"(The umpires) said he was too quick, and we could tell something had been different on that pitch," Hinch said. "I think the game sped up on him a little bit, and it just happened in a bad spot — he had Ramirez punched out on that pitch."
The Tigers attempted to make a comeback with Carpenter's long homer in the seventh, but Franco locked it down with hit a two-run homer in the eighth.
UP NEXT
The Rays have Monday off before starting a three-game home series with the St. Louis Cardinals on Tuesday. RHP Zach Eflin (12-6, 3.46) is expected to start against RHP Miles Mikolas (6-7, 4.29) on Tuesday.
The Tigers host the Minnesota Twins in a four-game series starting Monday. LHP Joey Wentz (2-9, 6.37) will pitch for the Tigers against RHP Pablo Lopez (6-6, 4.01).
___
AP MLB: https://apnews.com/hub/mlb