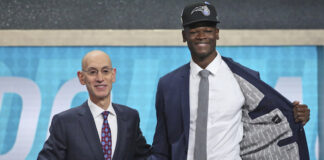 Going global. https://www.youtube.com/watch?v=MGnVq_98erQ While the National Basketball Association daily story seems to have drifted into soap opera land whether it is a storyline about LeBron James...
Nothing is imminent. https://www.youtube.com/watch?v=m4ZaPkrd6Z0 In the, it is time for New Year predictions, here are two statements that will be true. Major League Baseball will not...
I want money. https://www.youtube.com/watch?v=KP1NmpJCfbQ The National Basketball Association wants to schedule more games outside of the United States and Canada. The league has played its 2018-19...
The National Basketball Association's two game Mexico sample is on tap and the league continues to figure out what sort of future it has in Mexico City and in Mexico. Could the NBA eventually set up shop and place an expansion or relocation franchise in the Mexican capital? 
While Major League Baseball, the National Football League, the National Basketball Association and the National Hockey League continue to export their North American product globally, there is one sports group that does not want to step foot in America.
It is Cinco de Mayo which for some reason resonates in the United States with celebrations at bars and taverns with revelers having no real knowledge of why it is a holiday in Mexico. On May 5, 1862, an undermanned Mexican army defeated the French at the Battle of Puebla and it was also the last time a European nation attacked a North American country.
The Yankees in London? There are reports in London that the Yankees will come to town in 2019. If you read London newspapers, you will...