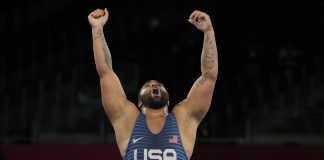 The Paralympics is coming. in the middle of the pandemic. https://www.youtube.com/watch?v=m8c6sWYeBBk Much of the circus has departed Tokyo but there is another round of athletic events...
On November 13, Calgary voters will be asked a simple question. Do you want the 2026 Winter Olympics in town? Very simple and what is more, it is a non-binding vote so the results really don't count.
Florida Senator Marco Rubio doesn't think it is a very good idea for China to host the 2022 Winter Olympics.
The organizers of the 2020 Tokyo Olympics are looking for a few good men to help with the presentation of the event. In fact, the organizers are looking for more than a few good men.
Help is on the way. https://www.youtube.com/watch?v=n3JHjI6gfyo&feature=youtu.be The Olympics and the Paralympics come and go every two years but there is one constant that never disappears. The...
Rio's Olympic Committee is in debt and is offering barter deals to pay off vendors https://www.youtube.com/watch?v=ScqbX2YgGrg&feature=youtu.be You have to give the organizers of the Rio Olympics...