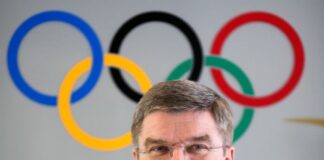 The race will soon be on.   https://www.youtube.com/watch?v=lnoE0k5ntAc&t=14s It appears that Salt Lake...
A Bid For History? https://www.youtube.com/watch?v=SLGR-58o6g8&t=1s Is Germany wrestling with the notion...
Calgary is gone. https://www.youtube.com/watch?v=idefpz3rUmg Unless members of the Calgary city council decide to ignore voters saying no, in a non-binding vote, to spending money on a...
The Olympics, whether it is the summer or winter version, is a hyped television show that lasts about two weeks which brings out the rah rah nationalism that is a major part of the presentation.
The International Olympic Committee suffered a defeat at the polls in Sion and Valais, Switzerland on Sunday as voters rejected a chance to help fund the 2026 Winter Olympics in that area.
It appears that the backers of the 2026 Sapporo, Japan Winter Olympics bid really don't want to go ahead with the bid. The Sapporo backers may want to try to land the 2030 Winter Games but there really isn't much of an explanation as to why the group is seeking a delay.
did LA accept too fast? https://www.youtube.com/watch?v=cC3oYS7zYlY Did the International Olympic Committee play the head of the 2028 Los Angeles Olympic Committee Casey Wasserman and Los Angeles...