Thanksgiving and football go hand and hand with many high school rivals ending their seasons by playing each other and there are some college games.  The NFL has been playing on Thanksgiving since 1920 with teams such as the Akron Pros hosting games.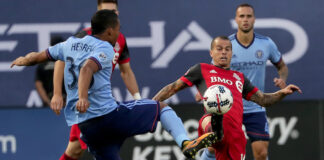 Has Major League Soccer given Austin an expansion team or is the league still searching for two cities to get the membership up to the stated goal of having 28 teams?
Enrique Bonilla is not a well-known name in American soccer fans circles but Bonilla is well known in Mexico as the President of Mexico's First Division in soccer and he has a thought about the future of soccer in North America.
The National Hockey League has not yet awarded Seattle an expansion franchise but another expansion contender maybe available and the most influential owner in the league is interested.
Remember when Major League Soccer wanted to expand by four teams and was in what appeared to be a major rush to find four cities and four owners who had what it took to join the club?
Worcester, Massachusetts and Wichita, Kansas stepped into the stadium game and ended up with Triple A Minor League Baseball teams moving into those cities by 2021.
The struggle to find cities with the right stuff to join Major League Soccer continues but league owners should be happy with some of the latest developments.
Anthony Precourt has decided that Austin, Texas is a better venue for his soccer business than the present location in Columbus, Ohio. It is that simple, Precourt would prefer his Major League Soccer team, the Columbus Crew, be based in Austin.
Austin, Texas could have a Major League Soccer team soon if the city council decides to go ahead and finalize stadium plans that would bring the Precourt Sports Ventures owned Columbus Crew to the city.
The National Collegiate Athletic Association, whose very integrity can constantly be questioned, through its basketball business put up its annual crown jewel basketball tournament, the Men's Final Four, for bid in 2023, 2024, 2025 and 2026.