Home
Tags
Arizona Diamondbacks
Florida News: Arizona Diamondbacks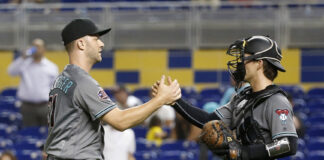 John Ryan Murphy had a busy day at the plate. Murphy drove in a career-high three runs to help the Arizona Diamondbacks to a 5-3 victory over the Miami Marlins on Tuesday night.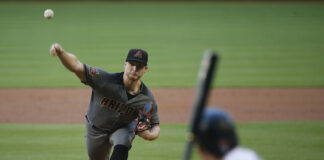 Brian Anderson and Cameron Maybin each drove in two runs to help spoil Shelby Miller's return to the mound after missing over a year for Tommy John surgery as the Miami Marlins beat the Arizona Diamondbacks 9-5 on Monday night.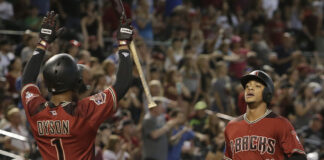 Matt Koch allowed three hits over seven scoreless innings and the Arizona Diamondbacks completed a three-game sweep, beating Miami 6-1 Sunday and extending the Marlins' losing streak to a season-long six games.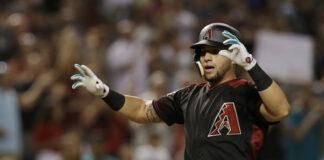 Paul Goldschmidt and David Peralta homered, Zack Greinke pitched into the seventh inning and the Arizona Diamondbacks beat the Miami Marlins 6-2 on Saturday night.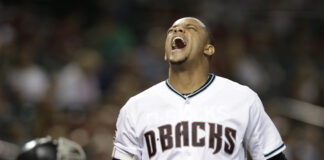 Arizona's bats woke up during a three-game series against Cincinnati. The Diamondbacks kept rolling in their opener against Miami, sending one ball after another over the Chase Field walls.
The saga of the Diamondbacks ownership and Maricopa County officials fighting over the Diamondbacks took a new turn last week when the two sides reached a tentative agreement that allows the baseball team to exit the stadium after the 2022 season.
The Tampa Bay Rays traded Jeremy Hellickson to the Arizona Diamondbacks prior to the 2015 season for Justin Williams and Andrew Velazquez. While Justin Williams has seen his stock rise, Andrew Velazaquez has seen his stock flat line. Can Velazquez regain his status in 2018?
The Tampa Bay Rays received a pair of minor league pitchers to complete the Steven Souza Jr. trade. All told the Rays end up with four players for the powerful Souza.
Bringing a 19th century game into the 21st century. https://www.youtube.com/watch?v=kDD02IbHjTo Baseball traditionalists and purists are not going to like this. Major League Baseball owners will be...
Rays Deal Team MVP To Diamondbacks The Tampa Bay Rays continue to reduce their roster dealing Steven Souza Jr. to the Arizona Diamondbacks in a...