Florida News: United States
There is a sports impact. https://www.youtube.com/watch?v=g5LK8B_nuxs It is President's Day. The chief executive of the United States has an impact on just about every facet of...
I want money. https://www.youtube.com/watch?v=KP1NmpJCfbQ The National Basketball Association wants to schedule more games outside of the United States and Canada. The league has played its 2018-19...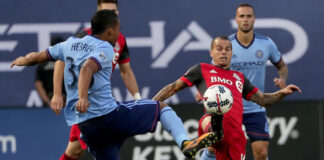 Growing pains. https://www.youtube.com/watch?v=o7jCVcGpxxw Just what sort of business do Major League Soccer franchise owners want? It seems a bit unclear at the moment because the owners...
In about one month's time, a number of state legislatures across the United States will address the issue of legalizing sports gambling. But in one state, Arkansas, the issue has been settled.
It appears that Justin Trudeau's government does not want to change the Canadian Hockey League policy and force the operators of junior hockey in Canada and the United States to pay teenagers who perform and make money for owners in that league.
The Lake Tahoe, Reno, Nevada area is not going to bother bidding for the 2030 Winter Olympics. That leaves Salt Lake City, Utah and Denver, Colorado as possible United States candidates for the 2030 event.
The clock is ticking down to the December day that the National Hockey League Board of Governors gets around to telling the people who are renovating the Seattle arena that once housed the National Basketball Association's SuperSonics, and Seattle's potential NHL owners that you have been accepted to join the lodge in 2020.
Major League Baseball is in the middle of its All Star tour of Japan. Recently, National Hockey League Commissioner Gary Bettman said the league has plans to stage 2019 pre-season games in Germany and Switzerland with regular season games in Prague, the Czech Republic and Stockholm, Sweden.
Enrique Bonilla is not a well-known name in American soccer fans circles but Bonilla is well known in Mexico as the President of Mexico's First Division in soccer and he has a thought about the future of soccer in North America.
The National Basketball Association season is underway but the Commissioner Adam Silver, his staff and the 30 owners are looking into the future and expanding the brand.