Glasnow Strikes Out 12 Over Five Innings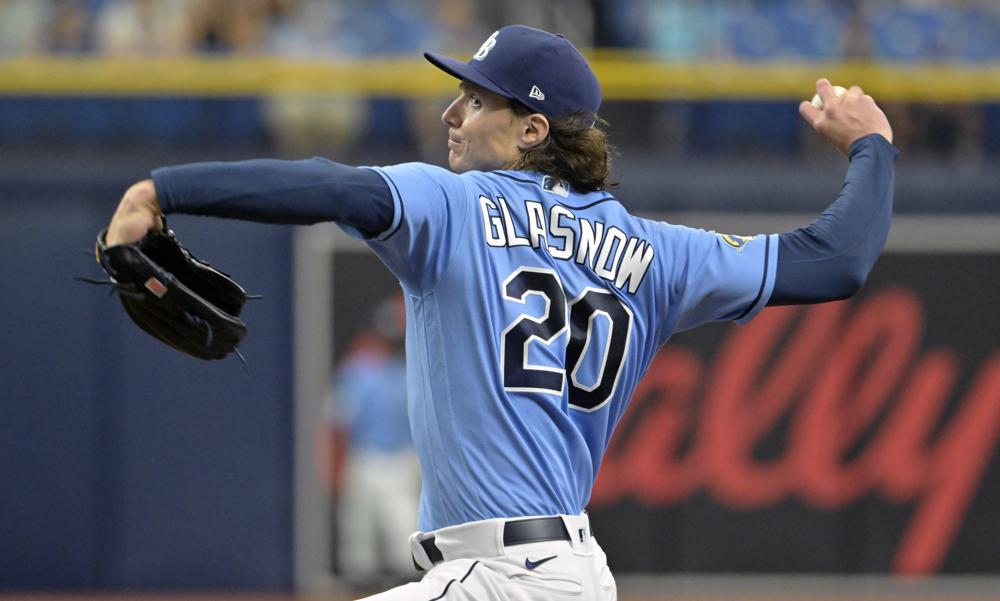 Follow @Steve_Kinsella1
St. Petersburg, FL – Tyler Glasnow stuck out 12 batters in five innings as the Tampa Bay Rays defeated the Kansas City Royals 3-1 to split the 4-game series at Tropicana Field.
Colin Poche (5-2, 2.20 ERA) picked up the win and Pete Fairbanks worked the ninth to earn his eighth save as the Rays improved to 54-27.
Taylor Clarke (1-2, 4.81 ERA) takes the loss for the Royals who fall to 22-56. The loss extends the Royals streak of winless series to 11, matching the third longest streak within a season in franchise history.
Jose Siri hit a 415-foot solo homer, his 14th homer of the year, in the bottom of the third inning putting the Rays up 1-0. His 14 homers tie Randy Arozarena for the team lead. Eleven of his homers come from the 9th spot in the lineup, the most in the majors.
The Royals tied the game in the top of the fourth inning on an RBI single by Maikel Garcia.
The Rays scored a pair of runs in the bottom of the seventh off Royals reliever Taylor Clarke. The Rays loaded the bases and scored the second run on a wild pitch and Harold Ramirez then delivered an RBI sacrifice fly for the third run.
Glasnow struck out 12 batters over five innings of work allowing one run on four hits and walking one. He made 89 pitches with 55 strikes including 26 swinging strikes. It was his 11th career 10+ strikeout game and first this season. The 26 swing and miss were a season high and third most in any game in his career.
"His delivery looked really clean." Kevin Cash said. "He and Kyle [Snyder] go back and forth on being as athletic as possible also under control and it appeared that way." Glasnow said after the game that Kyle Snyder came out to remind him during a mound visit that he was throwing across his body by simply saying "you're doing it again."
Daniel Lynch started for the Royals and allowed just one earned run on six hits while striking out a pair and walking two.
The Rays will have an off-day on Monday and travel to Phoenix to take on the Arizona Diamondbacks beginning Tuesday night at 9:40 pm EST. Taj Bradley (5-3, 3.86 ERA) is expected to start for Tampa Bay. Arizona has not announced their starter.