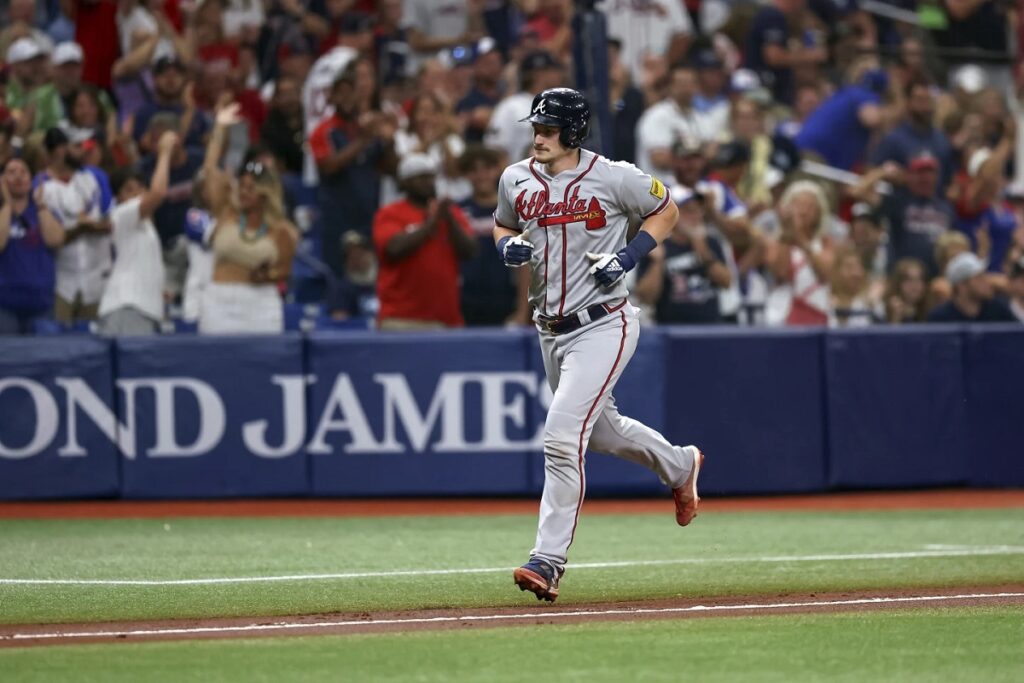 ST. PETERSBURG, Fla. (AP) — On a night when they were held to just two hits, the red-hot Atlanta Braves kept on winning.
With right-hander Charlie Morton pitching into the seventh inning and Sean Murphy extending a power surge that has seen Atlanta homer in 24 straight outings, the MLB-best Braves began a weekend series between teams with the top two records in baseball with a 2-1 victory over the Tampa Bay Rays on Friday night.
Murphy backed Morton (9-6) with a two-run homer as Atlanta won for the 19th time in 21 games to improve its record to 59-28.
The AL-best Rays (57-34) have lost a season-high six straight, although that wasn't the lone reason for concern after starting pitcher Tyler Glasnow (2-3) left in the sixth inning due to cramping in his hands and legs.
Glasnow, who hasn't won since June 14 and is 0-3 over his last four starts, allowed two runs — one earned — and two hits while walking one and striking out eight.
"You'd like to see him get rewarded for it. He came out of the ballgame because he just kind of had cramps in both hands, both quads," Rays manager Kevin Cash said. "We've seen it before, it kind of creeps in a little bit. He wanted to keep going."
Murphy went deep in the fourth inning after Atlanta's first baserunner, Matt Olson, reached on an error. The drive to right-center wiped out a 1-0 lead the Rays took on Wander Franco's homer off Morton in the first.
Atlanta, which leads the majors with 167 homers, has homered in 24 straight games dating to June 11. That's the longest active streak in the majors and second-longest in the franchise's modern era behind a 25-gamer in 1998.
Morton, who was 18-8 with a 3.33 ERA in 42 starts over two seasons with Tampa Bay, pitched at Tropicana Field for the first time since leaving the Rays after helping the team reach the World Series in 2020.
The 39-year-old right-hander allowed one run and four hits Atlanta turned to its bullpen with one out in the seventh. A.J. Minter, Nick Anderson and Raisel Iglesias, who worked the ninth for his 16th save in 18 opportunities, finished the six-hitter.
The Braves, meanwhile, were limited to two hits as Ronald Acuña Jr. (16 games) and Marcell Ozuna (15) saw long hitting streaks end.
"It's about winning the game. I don't care how you do it," Braves manager Brian Snitker said.
"Against that pitching you're not going to bunch a lot of hits together," Snitker added. "We were just fortunate that Sean got into that one and it was enough."
Glasnow departed after giving up a single to Olson with two outs in the sixth. He struck out six straight at one point, including all four batters he faced in the second inning, which was prolonged when Ozuna fanned on a wild pitch that allowed him to reach base.
Cash said Glasnow has experienced cramping before during his career, including during his last win at Oakland on June 14.
"We can't quite pin exactly what's causing it," Cash said.
Glasnow said the problem is not dehydration and that he expects to make his next scheduled start.
"I don't know what it is right now. It's only been a couple starts, so I'm not sure what it is," Glasnow said.
"When I go out … just like pushing off the mound, like my calves and my left arm really cramps up," the pitcher added. "I don't feel fatigued. I don't feel like exhausted. It's really weird. I'm hydrated, been doing the tests. So I don't know. It's just strange."
TRAVELING BUT NOT PITCHING
Braves manager Brian Snitker said right-handers Spencer Strider and Bryce Elder, won't pitch Tuesday night in the All-Star Game. Both will travel to Seattle, however, and take part in the other activities. Snitker is set to start Saturday, and Elder on Sunday.
TRAINER'S ROOM
Braves: LHP Max Fried, sidelined since May 5 with a strained left forearm, will start a minor league rehab assignment Sunday with Triple-A Gwinnett.
Rays: All-Star Shane McClanahan (mid-back tightness) threw with his pitching delivery for five minutes from 60 feet on level ground for the first time. The lefty is expected to return July 16 to pitch at Kansas City. … Reliever Andrew Kittredge (Tommy John surgery) struck out two during a scoreless inning in his second game with the rookie-level FCL Rays.
UP NEXT
Strider (10-2) will face Rays rookie RHP Taj Bradley (5-4) on Saturday. Bradley, who grew up a Braves fan, has given up 12 earned runs over 7 1/3 innings (14.73 ERA) in his last two starts.
___
More AP MLB: https://apnews.com/hub/mlb and https://twitter.com/AP_Sports