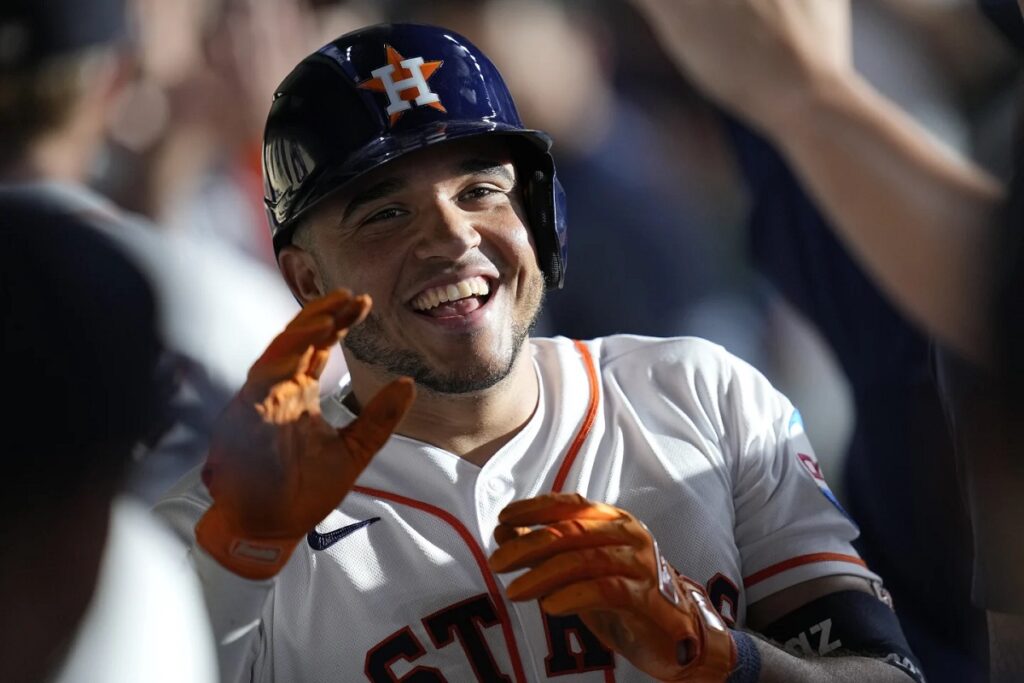 HOUSTON (AP) — Jeremy Peña had a career-high four RBIs, Yainer Díaz and José Abreu added three apiece and the Houston Astros had their highest-scoring game of the season in a 17-4 rout of the Tampa Bay Rays on Saturday night.
Díaz put Houston up early with a two-run shot in the second. Peña, who had two hits, made it 5-0 with a bases-loaded double in the fourth.
Chas McCormick hit a two-run triple in Houston's three-run fifth and Abreu made it 11-0 with his 10th homer of the season in the sixth to help the Astros bounce back after a 4-3 loss in the series opener Friday.
"We know that we're able to have games like this," Díaz said in Spanish through a translator. "It was definitely fun for a lot of us and we enjoyed it."
The Astros got eight hits and five RBIs from the bottom three batters in their lineup Saturday.
"That's why you kind of stagger your lineup to have some balance all the way through versus stacking it with guys that are swinging well," manager Dusty Baker said. "The bottom of the lineup came through tonight."
Hunter Brown (7-7) allowed four hits and two runs in 6-plus innings for his first win since June 13.
Isaac Paredes hit a two-run homer in the seventh and a solo shot in the ninth and Wander Franco added a home run in the eighth for the Rays, but it wasn't nearly enough as they fell to 6-16 this month.
With the game out of hand, manager Kevin Cash brought in catcher René Pinto for his first career pitching appearance to start the seventh inning.
With Pinto throwing as slow as 50 mph, the Astros easily padded the lead. Jose Altuve hit a two-run homer with one out and Alex Bregman added a two-run shot with two outs before Yordan Alvarez homered on the next at-bat to make it 16-2.
"I wanted René to pitch both innings, but the way that inning unfolded probably we need to stop it right there," Cash said. "Not how we drew it up, but we were trying to avoid both innings of no pitcher, but we might have been here all night if we sent him back out there."
Houston's 17 runs bested the 14 it scored in a win over St. Louis on June 29.
Tampa Bay rookie starter Taj Bradley (5-7) allowed three hits and five runs in 3 1/3 innings for his fourth straight loss.
"I know he's wearing it because he's a competitor and he wants to go out there and help contribute to us winning games," Cash said. "It's certainly not on, on his shoulders, but I would guess any of them would feel that way."
Franco singled with one out in the first. He stole second base and moved to third on the play on a throwing error by Díaz.
But the Rays came away empty when Bregman caught a fly ball hit by Brandon Lowe in foul territory and threw home in time for Díaz to tag Franco for the double play.
Abreu opened Houston's second with a single before Díaz homered to center field to give the Astros a 2-0 lead.
Bradley walked Jake Meyers walked with one out in the fourth to load the bases and end his night. Kevin Kelly took over and struck out Altuve before Peña doubled off the wall in left field to clear the bases and push the lead to 5-0.
Alvarez and Abreu hit consecutive singles with one out in the fifth before the triple by McCormick made it 7-0. A double by Díaz sent McCormick home and left the Astros up 8-0.
TRAINER'S ROOM
Rays RHP Zach Eflin (right knee discomfort) threw a bullpen session Saturday and Cash said he was feeling better after being injured Wednesday. But Cash added that they're still not sure if he'll be able to make his scheduled start Tuesday.
MOVES
Houston RHP Seth Martinez was optioned to Triple-A Sugar Land Saturday to make room on the roster for RHP Kendall Graveman, who was acquired in a trade with the Chicago White Sox Friday.
UP NEXT
Houston RHP Brandon Bielak (5-5, 3.62 ERA) opposes RHP Zack Littell (0-2, 5.11) when the series wraps up Sunday.
___
AP MLB: https://apnews.com/hub/mlb and https://twitter.com/AP_Sports