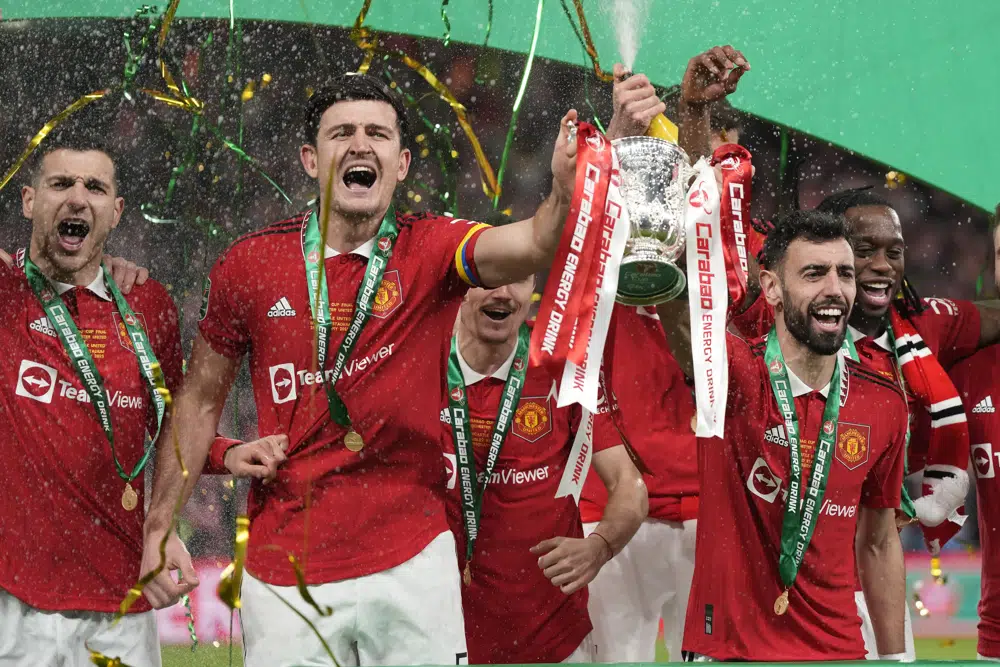 Ah, the stage is set for two epic rematches from the iconic 1999 UEFA Champions League Final. This group is brimming with marquee matchups and captivating personalities. One standout clash is Bayern Munich's Harry Kane returning to England to face Manchester United, a club that had long been linked with the former Tottenham striker. Intriguingly, United opted to sign Atalanta prodigy Rasmus Hojlund instead, and now the Danish international has the opportunity to confront his former club, FC Copenhagen, as they find themselves drawn alongside United and Bayern in Group A.
The group is rounded out by Turkish champions Galatasaray, boasting a squad filled with attacking talents such as Mauro Icardi, Dries Mertens, and Wilfried Zaha, making them a formidable underdog.
Manchester United must be cautious, having tasted group stage defeats against both Copenhagen and Galatasaray in the past. Nevertheless, the spotlight will undoubtedly be on the two matches between Bayern and United, promising a thrilling revisit of the 1999 Final, which United famously clinched with two stoppage-time goals in Barcelona.
Champions League Group A odds to win (via Casino Alpha)

Group A
Bayern Munich -188
Manchester United +200
Galatasaray +1000
Copenhagen +3300
Predicted order of finish
1-Manchester United
2-Bayern Munich
3-Galatasaray
4-Copenhagen
Full Champions League 2023/24 group stage schedule
(Group A matches in bold)
Matchday 1
19 September
AC Milan vs Newcastle (12:45)
Young Boys vs Leipzig (12:45)
Feyenoord vs Celtic (3:00)
Lazio vs Atlético de Madrid (3:00)
Paris vs Dortmund (3:00)
Man City vs Crvena Zvezda (3:00)
Barcelona vs Antwerp (3:00)
Shakhtar Donetsk vs Porto (3:00)
20 September
Galatasaray vs Copenhagen (12:45)
Real Madrid vs Union Berlin (12:45)
Bayern vs Man United (3:00)
Sevilla vs Lens (3:00)
Arsenal vs PSV Eindhoven (3:00)
Braga vs Napoli (3:00)
Benfica vs Salzburg (3:00)
Real Sociedad vs Inter (3:00)
Matchday 2
3 October
Union Berlin vs Braga (12:45)
Salzburg vs Real Sociedad (12:45)
Man United vs Galatasaray (3:00)
Copenhagen vs Bayern (3:00)
Lens vs Arsenal (3:00)
PSV Eindhoven vs Sevilla (3:00)
Napoli vs Real Madrid (3:00)
Inter vs Benfica (3:00)
4 October
Atlético de Madrid vs Feyenoord (12:45)
Antwerp vs Shakhtar Donetsk (12:45)
Celtic vs Lazio (3:00)
Dortmund vs Milan (3:00)
Newcastle vs Paris (3:00)
Leipzig vs Man City (3:00)
Crvena Zvezda vs Young Boys (3:00)
Porto vs Barcelona (3:00)
Matchday 3
24 October
Galatasaray vs Bayern (12:45)
Inter vs Salzburg (12:45)
Man United vs Copenhagen (3:00)
Sevilla vs Arsenal (3:00)
Lens vs PSV Eindhoven (3:00)
Braga vs Real Madrid (3:00)
Union Berlin vs Napoli (3:00)
Benfica vs Real Sociedad (3:00)
25 October
Feyenoord vs Lazio (12:45)
Barcelona vs Shakhtar Donetsk (12:45)
Celtic vs Atlético de Madrid (3:00)
Paris vs Milan (3:00)
Newcastle vs Dortmund (3:00)
Leipzig vs Crvena Zvezda (3:00)
Young Boys vs Man City (3:00)
Antwerp vs Porto (3:00)
Matchday 4
7 November
Dortmund vs Newcastle (12:45)
Shakhtar Donetsk vs Barcelona (12:45)
Atlético de Madrid vs Celtic (3:00)
Lazio vs Feyenoord (3:00)
Milan vs Paris (3:00)
Man City vs Young Boys (3:00)
Crvena Zvezda vs Leipzig (3:00)
Porto vs Royal Antwerp (3:00)
8 November
Napoli vs Union Berlin (12:45)
Real Sociedad vs Benfica (12:45)
Bayern vs Galatasaray (3:00)
Copenhagen vs Man United (3:00)
Arsenal vs Sevilla (3:00)
PSV Eindhoven vs Lens (3:00)
Real Madrid vs Braga (3:00)
Salzburg vs Inter (3:00)
Matchday 5
28 November
Lazio vs Celtic (12:45)
Shakhtar Donetsk vs Antwerp (12:45)
Feyenoord vs Atlético de Madrid (3:00)
Paris vs Newcastle (3:00)
Milan vs Dortmund (3:00)
Man City vs Leipzig (3:00)
Young Boys vs Crvena Zvezda (3:00)
Barcelona vs Porto (3:00)
29 November
Galatasaray vs Man United (12:45)
Sevilla vs PSV Eindhoven (12:45)
Bayern vs Copenhagen (3:00)
Arsenal vs Lens (3:00)
Real Madrid vs Napoli (3:00)
Braga vs Union Berlin (3:00)
Benfica vs Inter (3:00)
Real Sociedad vs Salzburg (3:00)
Matchday 6
12 December
Lens vs Sevilla (12:45)
PSV Eindhoven vs Arsenal (12:45)
Man United vs Bayern (3:00)
Copenhagen vs Galatasaray (3:00)
Napoli vs Braga (3:00)
Union Berlin vs Real Madrid (3:00)
Inter vs Real Sociedad (3:00)
Salzburg vs Benfica (3:00)
13 December
Leipzig vs Young Boys (12:45)
Crvena Zvezda vs Man City (12:45)
Atlético de Madrid vs Lazio (3:00)
Celtic vs Feyenoord (3:00)
Dortmund vs Paris (3:00)
Newcastle vs Milan (3:00)
Porto vs Shakhtar Donetsk (3:00)
Antwerp vs Barcelona (3:00)