Home
Tags
Colorado Rockies
Florida News: Colorado Rockies
Colorado Rockies outfielder Ian Desmond plans to sit out this season to be with his family and help grow youth baseball in...
Tommy Pham hustles home to score the Rays seventh run. It may seem like a meaningless moment in the game but it taught everyone a lesson.
The Tampa Bay Rays defeated the Colorado Rockies 7-1 on Monday night extending their win streak to four straight games.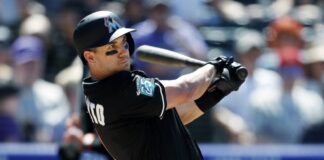 J.T. Realmuto hit a grand slam during a five-run seventh inning and the Miami Marlins beat the Colorado Rockies 6-2 on Saturday. Miami stopped a three-game skid and ended the Rockies' winning streak at four.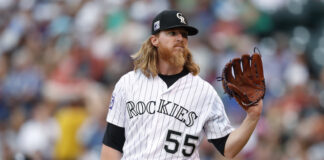 Jon Gray struck out 12 in seven dominant innings, Nolan Arenado homered in Colorado's six-run fourth, and the Rockies won their fourth in a row by beating the Miami Marlins 11-3 on Friday night.
Major League Baseball played some regular season games in Monterey in the late 1990s causing then Colorado Rockies owner Jerry McMorris to enthusiastically push for a franchise in the city that is not far from the Texas-Mexico border.
Another corporate naming ratings partner's logo and brand has fallen. https://www.youtube.com/watch?v=KxvrQT-UJ_A A monument to bankruptcy is coming down. The Sports Authority name is coming off the...
The Los Angeles Dodgers and San Doego Padres baseball teams are going to Monterey. https://www.youtube.com/watch?v=N20N24JKz4A Mexico seems to be the hot spot for Major League sports...
Baseball's ten most entertaining teams and the rave reviews that go with them Part I – The Forgettables and the methodology Part II – The Renewables When...
A look at five MLB clubs off to great starts On Thursday, I wrote about five teams that weren't living up to expectations to various...