It is a slow process. https://www.youtube.com/watch?v=NXkKmIkVkYE&t=6s Major League Baseball Commissioner Rob Manfred has his hands full with getting two baseball parks built in Oakland and in...
The money people are lining up with checkbooks in hand. https://www.youtube.com/watch?v=mrld6xVFG5s Here is a question that probably cannot be answered. Do any of the teams in...
You say yes, I say no. https://www.youtube.com/watch?v=7xgWVtLQMYk&t=4s It appears that the National Hockey League's Ottawa Senators franchise has become Commissioner Gary Bettman's biggest problem, surpassing the...
I want money. https://www.youtube.com/watch?v=KP1NmpJCfbQ The National Basketball Association wants to schedule more games outside of the United States and Canada. The league has played its 2018-19...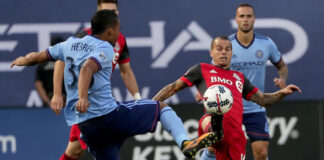 Growing pains. https://www.youtube.com/watch?v=o7jCVcGpxxw Just what sort of business do Major League Soccer franchise owners want? It seems a bit unclear at the moment because the owners...
Major League Baseball, the National Hockey League, Major League Soccer, the National Football League along with Minor League Baseball, the American Hockey League, college sports and the National Basketball Association do business in Massachusetts and in Michigan.
It appears that Justin Trudeau's government does not want to change the Canadian Hockey League policy and force the operators of junior hockey in Canada and the United States to pay teenagers who perform and make money for owners in that league.
Florida Senator Marco Rubio doesn't think it is a very good idea for China to host the 2022 Winter Olympics.
Enrique Bonilla is not a well-known name in American soccer fans circles but Bonilla is well known in Mexico as the President of Mexico's First Division in soccer and he has a thought about the future of soccer in North America.
Some sports taboos have fallen quickly in 2018. Sports owners, who allegedly detested legalized sports betting, are getting money from a newly found revenue source, legalized sports betting.