It is not a nation. https://www.youtube.com/watch?v=Qpwt-lDSjU8 For some reason, known only to...
In search of global markets. https://www.youtube.com/watch?v=HI-dV7bPYkQ The National Football League international committee,...
I want money. https://www.youtube.com/watch?v=KP1NmpJCfbQ The National Basketball Association wants to schedule more games outside of the United States and Canada. The league has played its 2018-19...
Sports diplomacy? https://www.youtube.com/watch?v=t4_OKLR-XIs The International Olympic Committee may have a new entry into what is getting to be a crowded field of areas vying for the...
It seems the International Olympic Committee President Thomas Bach is comfortable going after the news media and blaming the fourth estate for the problems that the IOC is encountering finding host cities that will gladly invest billions of dollars, euros and yen, into a two week sports pageantry that is at best a loss leader.
Real Madrid has denied a report that it has offered to buy Neymar from Paris Saint-Germain for a world record transfer of 310 million euros ($360 million). Madrid says the report by Spanish public broadcaster TVE is "absolutely untrue," adding the team "made no offer of any kind to PSG or the player."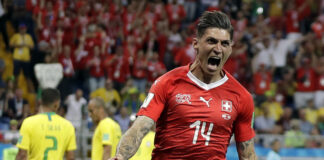 The latest action at the World Cup, from Germany's loss against Mexico to Brazil's draw with Switzerland.
The International Olympic Committee suffered a defeat at the polls in Sion and Valais, Switzerland on Sunday as voters rejected a chance to help fund the 2026 Winter Olympics in that area.
What is it about the Olympics that drives politicians and business leaders of various countries into denial when it comes to actually figuring out what hosting an Olympics really costs and how much of that debt is shoved onto taxpayers?
The majority of the stadiums built for the 2014 World Cup are wasting away unused and the 2016 Rio Olympics accumulated a mountain range of debt.